Early Non-Sports Trading Cards
For Sale
Stephen Oliver
821 Sherwood Lane
Fredericksburg, VA 22407 USA
EMAIL so1994@aol.com
If you wish to purchase any of the following items,
please e-mail me to confirm availability. If the item(s) are still
available, I will set those available aside for you. I will then advise you
by e-mail. Please then send payment in U.S. funds (cash, check drawn on a
U.S. Bank, or U.S. money order) to me at the above address. I also
accept PAYPAL ( so1994@aol.com ). A minimum of $1.25 will be added
to any order for First Class USPS shipping inside the United States.
Optional Insurance in the U.S. is also available. Shipping will be
higher outside of the U.S.
QUANTITY DISCOUNTS AVAILABLE
EBAY USERNAME = soliver
---
Animals of the World Trading Cards for Sale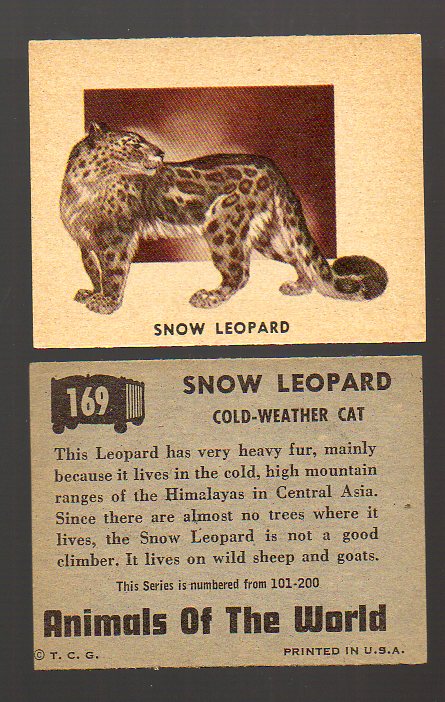 Cards from the TOPPS 1951 Animals Issue (R714-1)
Click here for Animals of the World price list
---
Bring 'Em Back Alive Trading Cards for Sale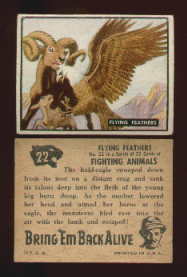 Cards from the TOPPS 1950 Jungle Stories Issue (R714-2)
Click here for Bring 'Em Back Alive price list
---
Davy Crockett (Green) Trading Cards for Sale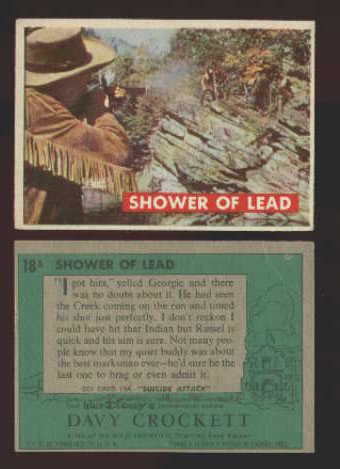 Cards from the 1956 TOPPS Issue (R712-1A)
Click here for Davy Crockett (Green) price list
---
Davy Crockett (Orange) Trading Cards for Sale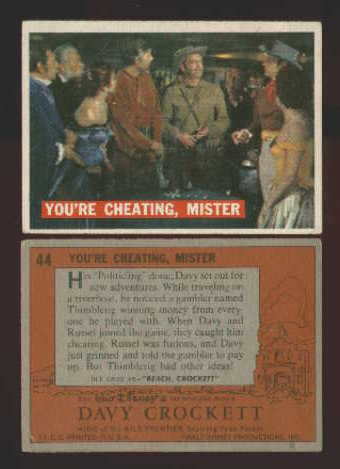 Cards from the 1956 TOPPS Issue (R712-1A)
Click here for Davy Crockett (Orange) price list
---
Fighting Marines Trading Cards for Sale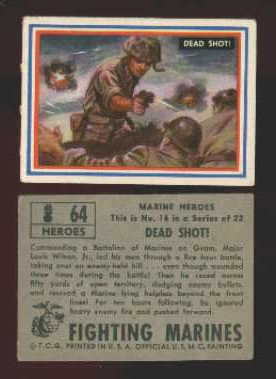 Cards from the TOPPS 1953 Marine Corps Issue (R712-1A)
Click here for Fighting Marines price list
---
Freedom's War Trading Cards for Sale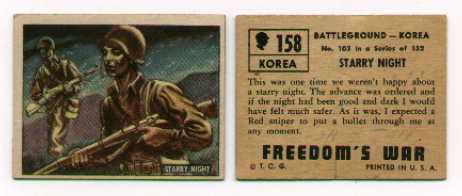 Cards from the TOPPS 1950-1 Korean War Issue (R709-2)
Click here for Freedom's War price list
---
Frontier Days Trading Cards for Sale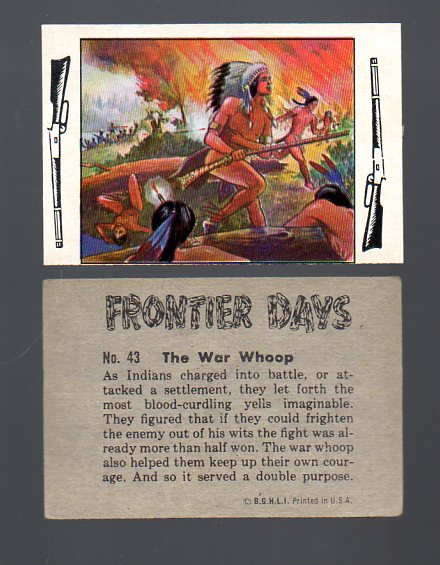 Cards from the Bowman 1953 Western Issue (R701-5)
Click here for Frontier Days price list
---
G-Men and Heroes of the Law Trading Cards for Sale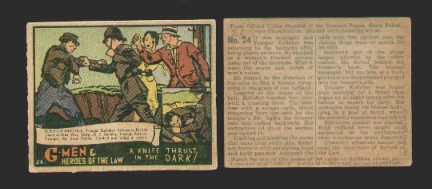 Cards from the GUM, INC 1936-7 Law Enforcement Issue (R60)
Click here for G-Men and Heroes of the Law price list
---
Hopalong Cassidy Trading Cards for Sale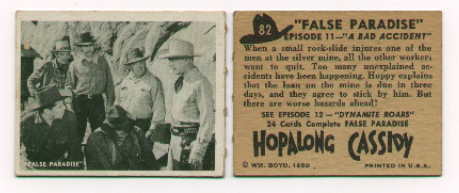 Cards from the TOPPS 1950 Issue (R712-2)
Click here for Hopalong Cassidy price list
---
Horrors of War Trading Cards for Sale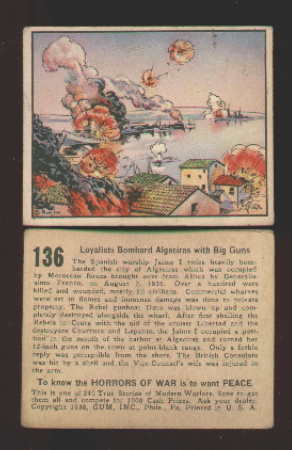 Cards from the GUM, INC 1938 Issue (R69)
Click here for Horrors of War price list
---
Jets Rockets Spacemen Trading Cards for Sale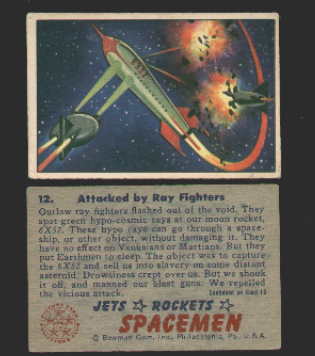 Cards from the Bowman 1951 S-F Issue (R701-13)
Click here for Jets Rockets Spacemen price list
---
Look 'N See Trading Cards for Sale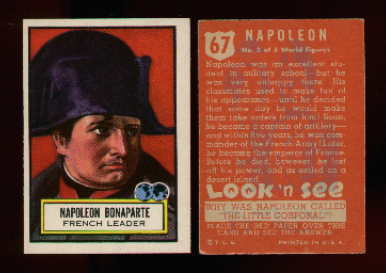 Cards from the TOPPS 1953 Famous Persons Issue (R714-16)
Click here for Look 'N See list
---
Mutoscope Trading Cards for Sale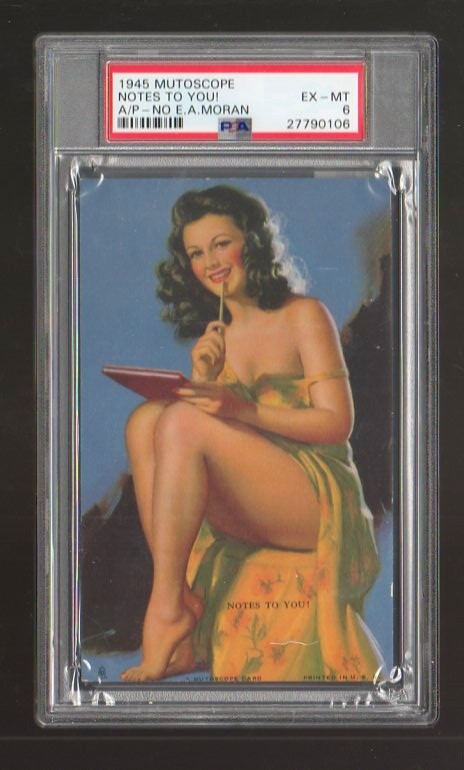 Cards from the 1940's Mutoscope Issues
Click here for Mutoscope lists
---
Pirate Pictures Trading Cards for Sale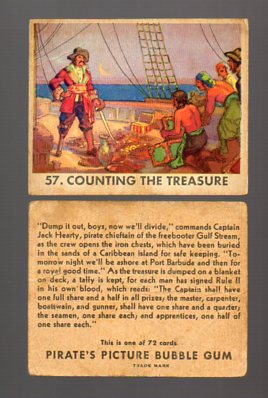 Cards from the GUM, INC 1930's Pirate Issue (R109)
Click here for Pirate Pictures list
---
Red Menace Trading Cards for Sale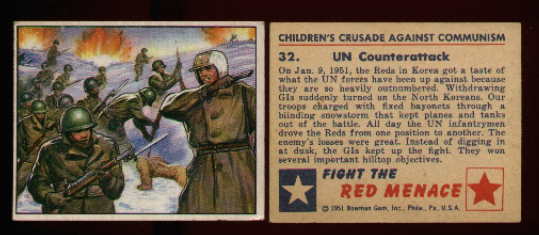 Cards from the Bowman 1951 Korean War Issue (R701-12)
Click here for Red Menace price list
---
Scoop Trading Cards for Sale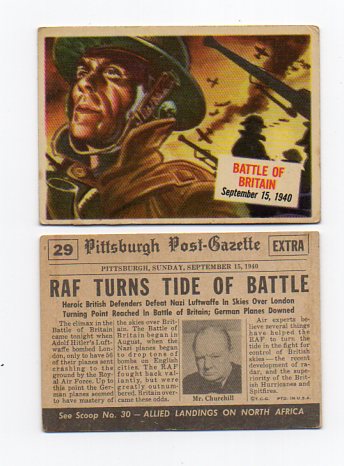 Cards from the TOPPS 1954 Issue (R714-19)
Click here for Scoop price list
---
Sky Birds (1933-34) Trading Cards for Sale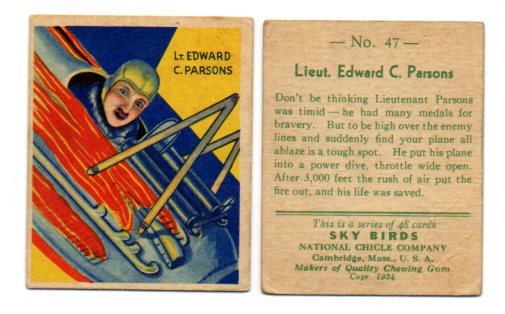 Cards from the National Chicle 1933-34 Issue (R136)
Click here for Sky Birds (1933-34) price list
---
Tarzan & the Crystal Vault Of Isis Trading Cards for Sale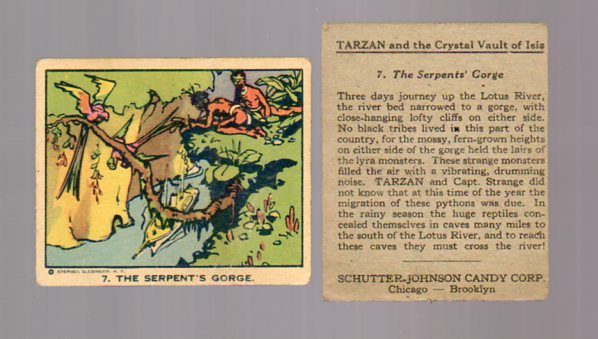 Cards from the 1930's Issue (R147)
Click here for Tarzan Isis price list
---
Tarzan and the She Devil Trading Cards for Sale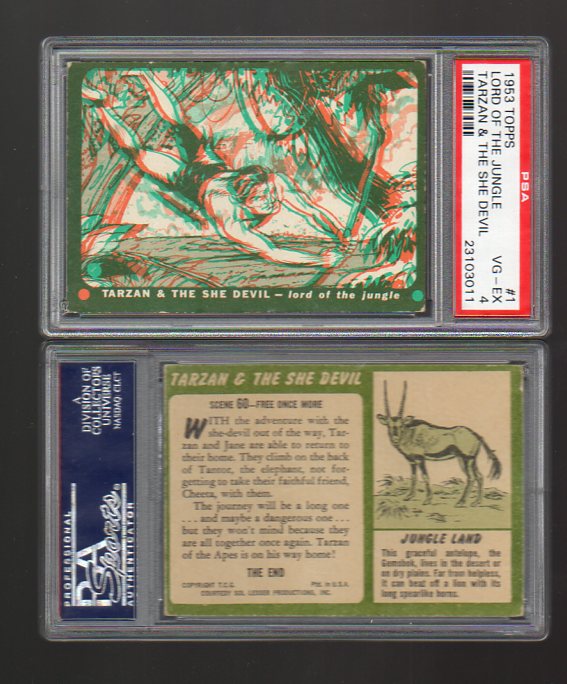 Cards from the TOPPS 1953 Issue (R714-2)
Click here for Tarzan and the She Devil price list
---
Tarzan's Savage Fury Trading Cards for Sale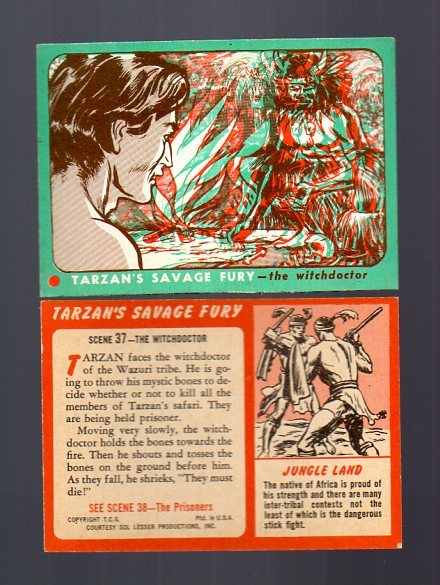 Cards from the TOPPS 1954 Issue (R714-22)
Click here for Tarzan's Savage Fury price list
---
Television & Radio Stars of NBC (1953) Trading Cards for Sale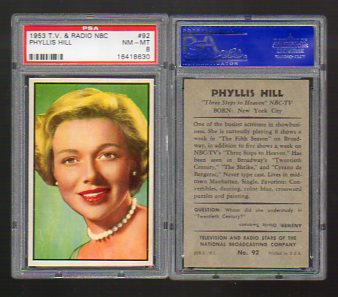 Cards from the Bowman 1953 NBC T.V. & Radio Personality Issue (R701-15)
Click here for NBC (1953) list
---
True Spy Stories (1939) Trading Cards for Sale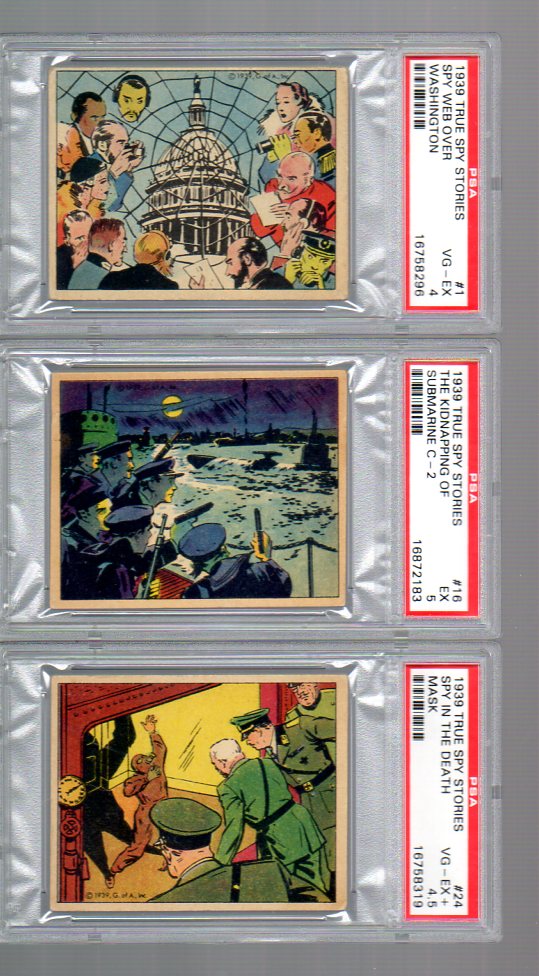 Cards from the Gumakers of America 1939 Espionage Issue (R156)
Click here for True Spy Stories (1939) list
---
Uncle Sam and Home Defense Trading Cards for Sale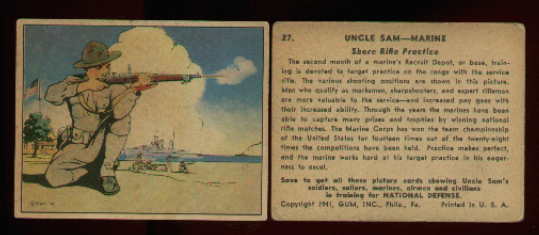 Cards from the 1941 GUM, INC World War 2 Issue (R157)
Click here for Uncle Sam price list
---
Wild West Trading Cards for Sale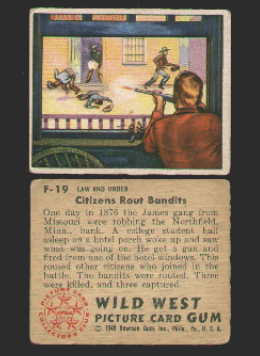 Cards from the 1949-50 Bowman Western History Issue (R701-19)
Click here for Wild West price list
---
WINGS Trading Cards for Sale

Cards from the TOPPS 1953 Aircraft Issue (R707-4)
Click here for WINGS price list
---
World On Wheels Trading Cards for Sale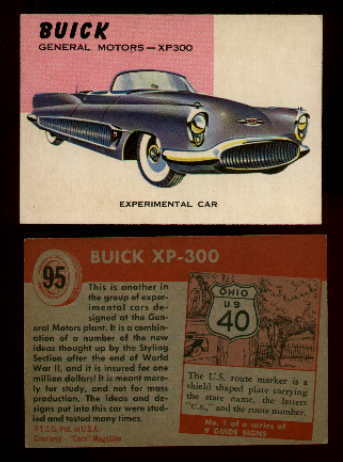 Cards from the 1953-5 TOPPS Automotive Issue (R714-24)
Click here for World On Wheels price list
---
X-Ray Round Up Trading Cards for Sale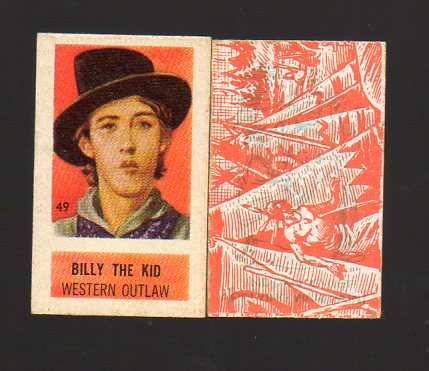 Cards from the 1952 TOPPS Famous Character Issue (R714-25)
Click here for X-Ray Round Up price list
---